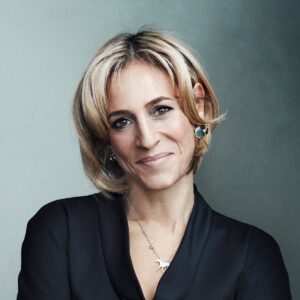 Senior Fellow and award-winning journalist Emily Maitlis will deliver the flagship lecture at this year's Edinburgh TV Festival.
Emily left the BBC earlier this year, after 15 years as anchor to its flagship news programme Newsnight, and this will be her first major public address since. On delivering the lecture, she has shared that she's "hugely honoured, extremely excited (and a little terrified…)"
The James MacTaggart Memorial Lecture is traditionally the highlight of the festival, which this year centres on the question "Can TV change the world?". In the address, Emily will consider the complex world of modern journalism and discuss the challenges around holding power to account.
Elaborating on the topic, she has said, "The need to hold power to account without fear or favour is more urgent than ever before. We are good at documenting censorship and intimidation of journalists around the world. But we are sometimes too slow to recognise how and when it is happening in more subtle ways, closer to home. 
In many places the political actors, their style of communication and their relationship with the truth has changed. Journalism needs to respond robustly to that challenge." 
Emily is a presenter on Global new daily news podcast, launching later this summer, alongside Senior Fellow Jon Sopel and 2014 Fellow Lewis Goodall; Executive Producer is Senior Fellow Dino Sofos and Planning Producer is 2022 Fellow Melissa Tutesigensi.