ITV Wales presenter and 2013 mentee Rob Osborne has picked up an award in the Wales Media Awards.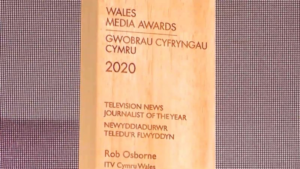 Rob who presents the weekly topical programme Sharp End in Wales collected his award for Television News Journalist of the Year. Rob said 'I couldn't do it without  the support of all at ITV Cymru Wales and the people who feature in my stories.'
Rob featured in our early April newsletter when he was appointed NUJ 'father of the chapel' by his colleagues.