Susie Schofield, founder of the John Schofield Trust, reflects on the campaign, #RememberingJohn, which ran over the 25th anniversary weekend (8-9 August) of John's death. The Trust's social media channels became alive with memories sent in by John's former colleagues, his friends and family.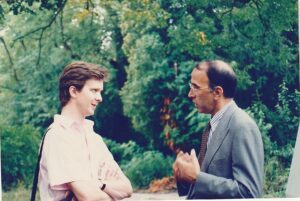 On 9 August 1995, my husband, John Schofield, was killed whilst reporting in Croatia. There was an enormous amount of media coverage and tributes paid to John – possibly, as one tactless person said to me at the time, because August was the silly season for news.
I was pregnant when John was killed, a fact I discovered the day after we held John's memorial at St Bride's, Fleet Street, four months later. In the ensuing years, I gave birth to our daughter, was made redundant, moved to Canada, remarried, had two more children, and ran the charity I set up in John's name, the John Schofield Trust.
When John was killed, I was surrounded by letters of condolence from John's colleagues and bosses, all saying he was a rising star. One of the many tragedies of John's death is that he knew none of this. He was always looking over his shoulder, nervous of asking for help. I vowed then that no young journalist should go to their grave at the age of 29 not knowing how valued they are by their peers.
With this in mind, I set up the John Schofield Trust to recognise young journalists, first with establishing the Young Talent of the Year Award with the Royal Television Society, and then with mentoring schemes. As one of John's friends wrote to me, the Trust's vision of making the news industry welcoming to all regardless of their background 'is such a perfect fit for the person he was. You have helped bring about the change he would have been part of'.
Plans to mark the 25th anniversary of John's death
When I saw the anniversary striding over the horizon last year, the trustees and I planned to hold a high profile reception in the Houses of Parliament with our contacts in the news industry and the beneficiaries of our work to raise a glass or three to John's memory. But Coronavirus and social distancing put paid to that idea.
Then Coronavirus struck….
So we re-thought, and, with the help of a group of past and current mentees, devised a social media campaign whereby those who remember John would be invited to post their memories of him online. I wrote to as many of John's and my friends with whom I was still in touch, as well as his former colleagues, to see if they might start the ball rolling with filming their own memories of John which we could post on our social media channels to encourage others to join in. I hoped that we might get 20 people to take part and the trustees and I held our breath and crossed fingers as the contributions came in.
And the contributions came in….
In the event, 40 people stepped up to the plate. We received contributions not just from John's friends and family but from high profile media names such as Mark Austin, Zeinab Badawi, Tom Bradby, Lord Hall (who was the Director of BBC News at the time of John's death) and Jon Snow. I was astonished at how many remember him still. And vividly. It turns out journalists can be just as sentimental as the rest of us. The trustees and I found ourselves scheduling 70 posts for the weekend-campaign.
It takes off!
On the Thursday before our campaign was due to start, Lindsey Hilsum, Channel 4's International Editor, a mentor on our scheme, tweeted 'I remember the terrible day when the young reporter John Schofield was shot dead in Croatia. 25 years on the brilliant @JSchofieldTrust mentoring scheme started by his widow is alive and well. I think he'd be proud'. From that point on, the campaign suddenly sprang into action and it was all hands to the pump as we re-thought our plans, brought forward posts, and cut more material to fill the time and keep momentum going.
Interview requests came in
There were media requests for interviews. Ever since John died, I have always shied away from the media. I have a long-held belief that my strengths lie in the back room rather than fronting anything. My ingrained fear of what people might think – and by extension what they might in turn think of John – has stopped me in my tracks to speak in front of any group larger than three. My wish to stay behind the scenes has been a preference that the trustees have long respected. However, this time, I steeled myself to tell John's story.
So, on Friday I was being prepped for a socially distanced interview in my back garden with Sky News. That done, I then did an interview with John's friend and colleague, Alastair Stewart on talkRADIO, and on Sunday, the actual anniversary of John's death, an interview on BBC Breakfast. Mercifully, it was timed at an early hour so no-one other than John's sisters were watching. Or at least, that is what I told myself and it's the silly season after all.
Outpouring of affection for John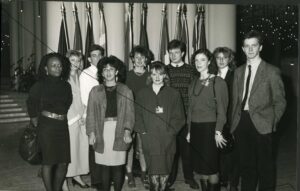 I was not expecting the outpouring of emotion from John's past colleagues and friends, nor the revisiting of the searing pain I endured after John's death. In preparing for the campaign I had dug up old letters, photographs and videos and what stood out was John basked in the glorious technicolour of youth. I saw in those photographs a picture of two very happy people together, deeply in love and having a lot of fun.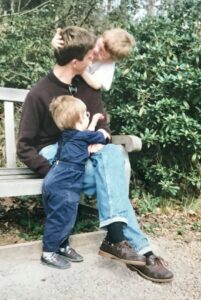 John's family, friends and colleagues dug up their memories too, in abundance. I am keen not to deify John – as is so easy to do with those who die young. But I also wanted to show the side of John as the adored son, brother, friend, husband to those young journalists the Trust helps instead of the rather static black and white photo of him which graces the Trust's logo.
Remembering John the husband, brother, uncle and friend
One particular photo that I'd not seen before was one which a friend posted on FaceBook for the 25th anniversary (see above). It was taken on a boat at a party I threw for his (ironically) 25th birthday. It was a surprise birthday picnic party on the Cam and on the Friday before, John was sent to Belfast to cover a story for the weekend. I had to suggest to him that he might want to return on Sunday and be in Cambridge for lunch-time; he smiled wryly…. Seeing in that photo, the two of us, nonchalantly entwined with each other, on the river trip back to Cambridge, happy at how everything had gone, with lots of our friends and family celebrating his day, underscored the futility of John's death.
The aftermath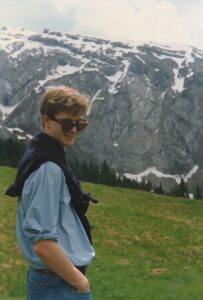 We have now finished the campaign #RememberingJohn and I will take the time to re-acquaint myself with my erstwhile companion, the John-shaped hole next to me, which took centre stage that weekend. I was amazed and humbled by the levels of activity on our social media channels to remember John; perhaps this engagement was because of the silly season: I'd like to think it's because John made everyone he met feel valued and welcome.