Zahra, a 2022 Fellow, writes for us on the experience of joining the Channel 4 News Washington Bureau.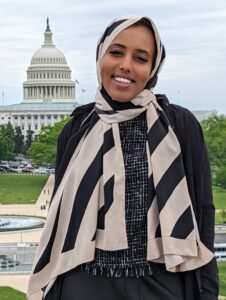 Last month I landed in Washington D.C. after a few years of covering news at home for Channel 4 News.  
A lot has happened since then! Within days of getting started I was on the road covering all things breaking news. Suddenly, I swapped producing stories in London or Hull for Buffalo and Houston.   
In my first week, we headed to Buffalo, New York to cover a racist massacre when an 18-year-old gunman killed 10 people at a supermarket. When we arrived, we met a tight knit community that was shocked and in grief, sadly giving me an insight into the horrors of mass shootings.  
See coverage of the Buffalo shootings here and here.
Before the funerals of the Buffalo victims even came to an end, we were covering another mass shooting but this time in Uvalde, Texas. A gunman burst into a primary school barricading himself inside a classroom full of kids. 
Those first few weeks gave me not only a good understanding about America's relationship with guns but more importantly the scale of loss that's inflicted on families who lose their loved ones. 
See coverage of the Uvalde school shooting here.
Back in the capitol, families of the victims and politicians gathered in congress to pass a new gun safety legislation. There I managed to ask Alexandria Ocasio-Cortez about support – or lack of – from her Republican colleagues.  
See Zahra's interview with Alexandra Ocasio-Cortez here.
Producing stories I care about, with a great team, always reminds me that taking a leap of faith in journalism was worth it – and I can't wait to do more.  
So, I'm excited for the months ahead! 
Find out more about Zahra's work in Washington here and follow her on twitter to stay up to date with her stories.