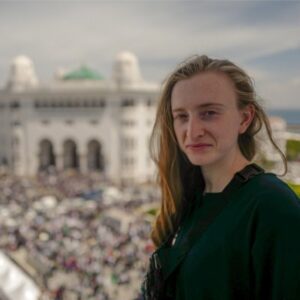 The 'Last Man Standing' investigation, led by eminent war correspondent Anthony Loyd, traces the final steps of British journalist John Cantlie who was kidnapped by IS in 2012. It has been shortlisted for Innovation of the Year at the British Journalism Awards. 
The project includes a map of Cantlie's last known movements, a short documentary featuring interviews with eye witnesses, and a podcast serialisation. Venetia was involved in developing the interactive map that retraces Cantlie's steps, using geolocation technology and data from the propaganda videos he appeared in.
Venetia said, "It was a great pleasure to work on this story with the inimitable Anthony Loyd. Tracing the steps of British journalist John Cantlie, who was captured by IS and used to make propaganda videos, the team was able to return to the sites he visited in Mosul and attain first hand accounts of how the videos were made. I'm delighted that the piece is nominated for the innovation category, as it was a collaborative effort across foreign, video, and the graphics team." 
The investigation is ongoing. Find more detail on the threads of the project here, and read the piece in the Times  here,
The British Journalism Awards celebrate the best public interest journalism produced for a UK audience. They aim to recognise great journalism which is revelatory and has an impact. The judges are looking for work which displays journalistic skill and rigour and which serves the public interest. The ceremony takes place on 15 December.