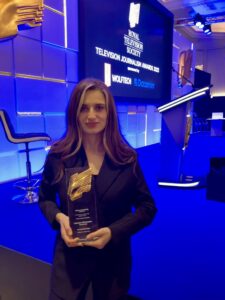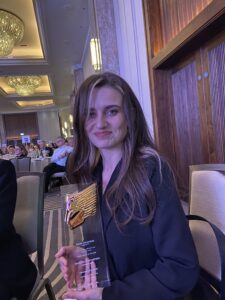 Many congratulations to Vasilisa Stepanenko, this year's winner of the RTS Young Talent of the Year Award.
The award was set up in 1996 by the John Schofield Trust, in partnership with the Royal Television Society, in memory of John following his death in the field in 1995.
A visual journalist and producer for the Associated Press, Ukrainian Vasilisa was awarded for her coverage of the conflict in Ukraine. Judges described her as "an astonishing young journalist" who "showed amazing bravery and incredible tenacity."
She delivered a heartfelt speech on receipt of the award which received a standing ovation from the audience. A snippet of her speech can be seen in this RTS highlights reel of the night, from around 4 minutes in. Speaking to interviewers following the ceremony, an emotional Vasilisa said, "If all these war crimes were forgotten, something bad could happen to the whole world, not just to Ukraine." See the interview in full here.
Vasilisa told us, "I am still feeling happiness from the support I received during the RTS ceremony. Even when this morning I woke up once again from sounds of explosions. I am very grateful that the voice of Ukrainians is heard, that I can see hope and understanding in people's eyes in such difficult times. It helps me believe in myself and work every day to let the world know the truth."
David Stenhouse, Trust CEO, said, "The John Schofield Trust is honoured to recognise the bravery and professionalism of Vasilisa Stepanenko who has worked so hard to bring back images which record the reality of the frontline of the war in Ukraine. The judges were moved to tears by her reports and we commend her vital work at such a desperate time."