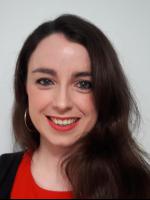 Una Kelly, a mentee on our 2019-20 scheme, has produced and presented a three part investigative podcast series for BBC Sounds and BBC Northern Ireland.
'The Boy in the Burning Car' examines the suspicious death of 18 year old Caoimhin Cassidy-Crossan, whose body was found in a burnt out stolen car in Derry, Northern Ireland in June 2019. Police believe he wasn't travelling alone in the car and there were reports of people running away from the scene. The post mortem indicated Caoimhin died after the car caught fire. Since then, his family has struggled to find out what happened to a much-loved son and grandson.
Over a period of three months, Una spoke to family members, community representatives and the police to tell the story of who Caoimhin was, the investigation into his death and his family's search for answers.
While trying to find out what really happened that night, a bigger picture emerges. The podcast uncovers a teenager's life marred by paramilitary threats and drug abuse, raising serious questions about issues still facing some young people in Northern Ireland's post-conflict society.
Feedback from listeners so far has included "moving, empathetic storytelling" that "raises big questions about society's response to young men who fall through the cracks".
Una says it was a challenging story to tell, made more challenging when local lockdown restrictions kicked in soon after production began. "It was disappointing to have to shift to remote recording. But I had taken part in the John Schofield Trust's podcast masterclass and picked up some tips, which gave me the confidence to know the production could still be executed well."
You can listen to 'Assume Nothing: The Boy in the Burning Car' here on BBC Sounds or wherever you get your podcasts, and read about it on the BBC News website.