Former mentee and current Trust board member, Dhruti Shah, has been recognised as one of the 40 Digital Women to Watch in 2021 by the Digital Women Awards.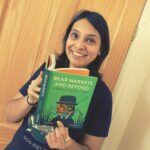 This means the BBC News journalist, who currently specialises in newsgathering, is also in the running for the Digital Woman of the Year category.
Dhruti also made the finals of two other categories – Digital Women for Good and Role Model of the Year.
She features in this book alongside the other high-flying finalists.
The full shortlist is here.
It comes just weeks after her debut book Bear Markets and Beyond: A Bestiary of Business Terms made it on to the shortlist for the Business Book Awards 2021 in the Short Business Books category.