The Trust held a day of masterclasses at the BBC's Broadcasting House in London on Saturday, 18 June.
Fellows came together in person for masterclasses for the first time since January 2020, taking full advantage of the opportunity to meet, share and learn from the Senior Fellows and experienced journalists in the room. The day consisted of a number of sessions providing practical advice and insight for early career journalists, a panel putting their questions to BBC Director General Tim Davie and a chance to network.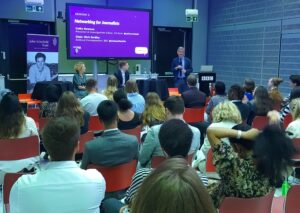 Channel 4's Cathy Newman and Nick Eardley of the BBC initiated proceedings with a discussion on the importance of networking for journalists, including insight from their specialist areas of investigations and politics.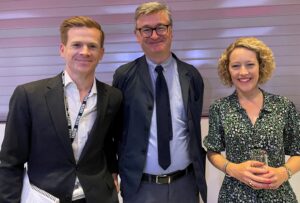 A panel on multimedia journalism chaired by our own Trustee (and freelance journalist) Dhruti Shah consisted of Trust Fellows Nabihah Parkar (Vice) and Gareth Shoulder (JOE Media) providing tips from their perspective and experience at the frontline of new media journalism.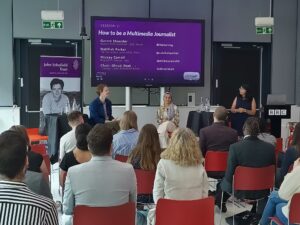 Friend of the Trust Paul Simnock, of specialist media accountants Weston Kay LLP, then gave a practical presentation on personal finances, including the pros and cons of freelance work vs employment.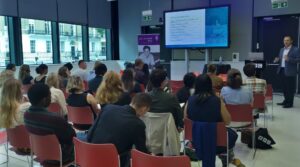 Finally, three Trust Fellows – Laura Gaynor of the BBC, Sofia Lewis of ITN and Shingi Mararike of Sky – were given the opportunity to quiz Tim Davie, Director General of the BBC, on everything from his background to career highlights, and diversity at the BBC, before opening up questions to the floor. It was a delightfully candid and eye-opening conversation, thoroughly enjoyed by all in the room.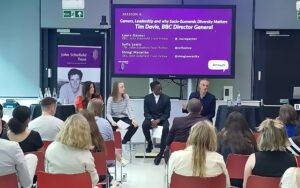 Many thanks to all our speakers, panellists and attendees; thanks to Tim Davie and the BBC for hosting us; and especially to our Fellows for being such active, engaged and stimulating participants. We look forward to seeing you all at the next one!