The John Schofield Room is usually a large meeting room at BBC New Broadcasting House. But for the night of the US elections it was transformed into the central hub for all of the outside broadcasts (OBs) for the results programme on BBC ONE and BBC World.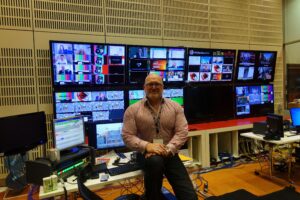 John Schofield Trust mentor Tim Burke (pictured) is the editor in charge of all the outside broadcasts (OBs) – making sure correspondents and guests from across the world got through to the programme with Andrew Neil in London and Katty Kay in Washington who were joint presenters on the night.
Getting the room ready is an engineering feat itself, making sure all the communication links and cabling works as it should.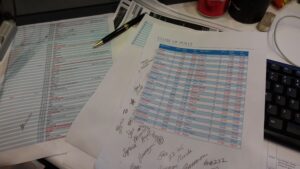 On the night it was a mammoth editorial job coordinating the timings of all the OBs from Philadelphia, Ohio, Florida, Nevada, Wisconsin and elsewhere across the US – not least the Biden HQ and Donald Trump from the White House. Jeff Cox, guest producer on the night, helped wrangle the countless guests that also found their way on to BBC World Service, Radio Four and Five Live.
Normally with many more people, in these Covid-times, it was just Tim and Jeff who helped push through the OBs to the editor of the programme… a programme which was watched by tens of millions of people on BBC ONE, BBC World or on iPlayer.
This was a global programme, reflecting a globally historic moment and the John Schofield Room was at the centre of it all.