Tamsin Selbie, a senior journalist based at the BBC in Glasgow, reported on a story that received UK-wide recognition. 
She spoke to women who had their pictures exploited by fake websites in order to sell sexual content – despite there being no sexual content on offer. Tamsin investigated the moral and legal side of fraudulent activity and image-sharing, and also explored the repercussions of being 'accused' of online sex work. 
Tamsin reported, produced and edited the TV and social media pieces, and also featured across BBC Radio 1's Newsbeat and BBC Radio Scotland throughout the day. It was Tamsin's debut on the radio, for which she received good feedback from both colleagues and listeners.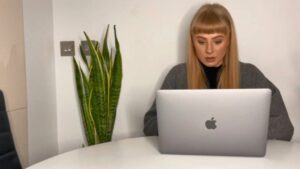 She said, 'it was great to report on such an important story that isn't often brought to light, and to explain the intricacies of a murky legal system to a wide audience. I'm pretty proud that my debut on radio was on Radio 1, and hope to keep telling stories that matter to young people'.
You can watch Tamsin's report here.
Tamsin is a mentee on our mentoring scheme for early career journalists this year and is being mentored by JST trustee, Nick Pollard.