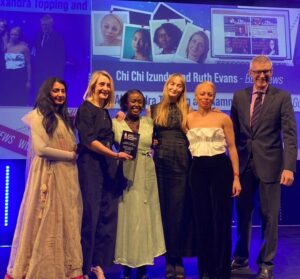 Senior Fellow Ruth Evans won her first British Journalism Award at the end of 2022.
The award, in the Social Affairs, Diversity & Inclusion Journalism category, was presented for the BBC investigation Tim Westwood: Abuse of Power. Ruth filmed and directed the programme which centres on the renowned hip-hop DJ and hears from six black women who accuse him of sexual misconduct, predatory sexual encounters and unwanted touching.
The judges said: "This was brave journalism which involved journalists shining a light on their own employer. It involved painstaking work which gave a voice to victims." 
Ruth said: "Still blown away by this….As (colleague and senior BBC broadcast journalist) Chi Chi Izundu said, this is for the women who trusted us to tell their stories."
Ruth is a mentor on the Trust's early-career journalist scheme this year; her mentee is Channel 4 News podcast producer Freya Pickford.