This weekend we are running a social media campaign called #RememberingJohn, to mark the 25th anniversary of John's death on 9 August. We hope that supporters will share their memories of him online. 
Contributions for our campaign have poured in from John's friends, beneficiaries of the John Schofield Trust as well as high profile media names such as Zeinab Badawi, Tom Bradby, Ben Brown, Robin Lustig, Ronke Phillips and Jon Snow. We hope you find the campaign as moving and inspiring as we do.
Get involved
If you remember John, the impact that his death had on the news industry, or have been supported through the work of the John Schofield Trust, please do share your memories. If you don't remember John, you can help by retweeting or sharing our social media content.
Please use the hashtag #RememberingJohn and remember to tag the Trust. It is heartening that so many people continue to remember John with affection.
You can find us here on: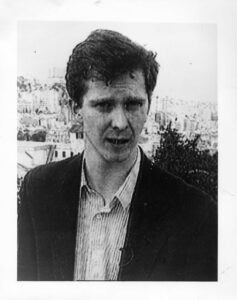 John was working for BBC Radio 4's World Tonight when he was killed in Croatia on 9 August 1995. He was 29. You can hear how the World Tonight reported John's death here.
'The thing I most remember about John is just what a lovely man he was. He was a trainee a few years above me. And obviously when you come in through the door of a building like this, on the one hand, you've been given this golden ticket. On the other, you know, there's a lot of pressure on you and you really look to the other trainees for advice and guidance. And John was just the kindest, most thoughtful, most lovely man. He gave me hugely valuable advice. And I will always remember him for that' – Tom Bradby, Presenter, ITV News
It is heartening that so many people continue to remember John with affection.
Thank you for your help in making our campaign reinforce John's legacy of making newsrooms welcoming to all.