2022 Fellow Niamh Hughes has two reasons to celebrate this month. The first was the coordination of her debut Outside Broadcast for BBC News; and the second, a win in the News category of the MHP Mischief 30 to Watch Young Journalist Awards 2022.
Niamh's Outside Broadcast covered the local elections in Newcastle-under-Lyme, Staffordshire. She was responsible for organisation of an entire day of interviews spanning three different locations in the town, coordinating coverage with her presenter Luxmy Gopal (pictured above). It was a demanding task, but ultimately Niamh was pleased with the results: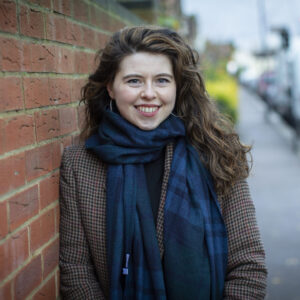 "I had two days to organise everything from the content to parking permits and a broadcast-capable satellite truck.
It was a massive challenge for me. I was thrown into the deep end but managed to showcase a broad range of voices to discuss the issues that affected the people in Newcastle, as well as national issues like the cost of living crisis. From standing councillors to local business owners, a food bank and a group of young first-time voters, I was able represent a significant cross section of the community.
I learnt so much from the experience and hope to work on more outside broadcasts again, soon."
The winners of the 11th MHP Mischief Young Journalist of the Year awards were announced on 16 May. Niamh was a winner in the News category for her work with BBC News. See the full list of 30 to Watch winners here.