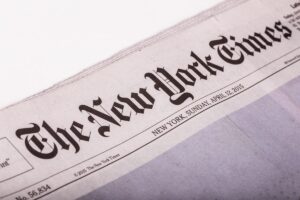 John Schofield Trust Fellows for 2023 will have the opportunity to access all online news from The New York Times for the duration of their 12-month mentoring programme.
The Trust is very pleased to announce the opportunity provided by The New York Times, which will enable new Fellows to access high quality global journalism to support their learning and professional development as they take their first steps in the industry.
Speaking on behalf of the Trust, CEO David Stenhouse said: "We are delighted that our 2023 Fellows will have the opportunity to read the world class journalism of The New York Times."
Carla Correa, the newsroom's Deputy Director of Career Programs, said:
"Our work at The New York Times is guided by a mission to seek the truth and help people understand the world, and nurturing a diverse workforce of independent, critical and curious thinkers is central to this mission.
We hope that by making our journalism accessible to John Schofield Trust early-career journalists, we can play a role in supporting the next generation of newsroom leaders, and newsrooms that better reflect the diversity of readers and communities worldwide."
Applications for the Trust's 2023 mentoring programme open to early career journalists from England, Wales, Scotland, Northern Ireland and the Republic of Ireland on 1 September. Subscribe and stay tuned to our socials for more details.