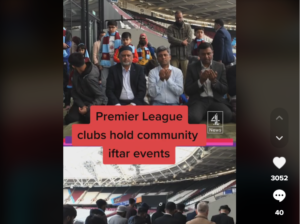 On Tuesday 18 April, Channel 4 News aired a package on football and faith: "Premier league Ramadan breaks make football feel 'more inclusive' for Muslim players." 2023 Fellow Nasaybah Hussain pitched and developed the story from beginning to end, as she explains here:
"A month ago, when Ramadan started, I had wanted to pitch a story to my newsdesk on Ramadan. Over the weeks I worked and developed this story. I spoke to football clubs and tried to get access into an iftar event they were holding or an interview with a player on Ramadan.  
Eventually, I secured an interview with West Ham. From my initial pitch to setting up the story, I finally ended up producing my first ever piece for Channel 4 News.  
It was a proud moment to see something I worked on progress from an initial idea to developing into a story and then being aired."
The piece was presented by Jordan Jarrett-Bryan, himself a champion of the Trust. It can be watched here.
Nasaybah produced a clip for TikTok on the piece which can be viewed here.
Follow her for more news and career updates here.