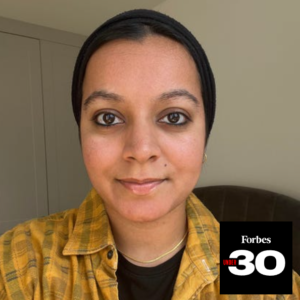 Nabihah (2021), video journalist at Vice World News, has been included on this year's Forbes 30 Under 30 Europe list, in the Media category.
She was recognised for her work producing TikTok news videos covering complex topics and underrepresented communities, several of which have reached over a million views; and for her contributions to other media outlets including BBC Newsbeat and HuffPost UK.
Nabihah is thrilled to be included. She told us, "Making it on the 30 Under 30 list is a true 'pinch me' moment! I could never have dreamt of my name being featured in Forbes when I started out in journalism several years ago. As a hijab-wearing woman, I hope this makes the impossible feel possible for other underrepresented communities."
View the full Forbes list here.
Nabihah has also been shortlisted in the Media Category of this year's Asian Women of Achievement Awards: see the full shortlist here.
Follow Nabihah's work here.