Monika, a current Fellow, and Ashni, from last year's cohort, worked for 11 months on a BBC Panorama investigation into explicit images of women being shared without their knowledge or consent. The resulting documentary, The Secret World of Trading Nudes, aired at the end of August to global attention and acclaim.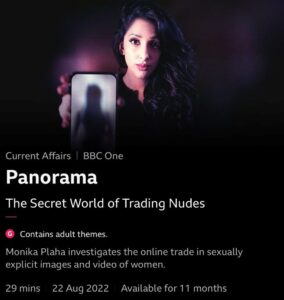 The documentary made over 30 BBC outlets on the day it was shown, including BBC Breakfast, 5Live and the News at Six, and has accumulated millions of views. Major UK news outlets picked up the story, including the Independent, Mirror, Guardian, Daily Mail and This Week. It also made headlines from India to Australia, and has been translated into 50 different languages. This online piece alone received over 4.5 million views.
The pair's investigation eventually resulted in the perpetrator at the head of the online network being exposed, and the removal of the explicit content from the public sphere. It has also put renewed pressure on the government to make the offence a criminal one, and on tech companies to offer better protection against these activities.
Monika shares the story of how the documentary came into being with us here:
"Last November I got sent a link to a disturbing and shocking Reddit group where thousands of women's most private images were being shared and traded without their consent by anonymous users online. As part of our investigation myself and my producer toiled through 11 months' worth of violent sexual content which humiliated, shamed and exposed South Asian women. Some of the women I recognised from social media and others I recognised from my home city.
The footage was harrowing. My team and I infiltrated a network of anonymous users who were working together to gather and share content.
I spoke to seven women whose explicit videos were shared without consent in this group and all of them felt depressed and suicidal. The victims were terrified, being harassed and blackmailed online on a daily basis. Two of them went as far as faking their own death online so users would stop abusing them.
This form of online image-based abuse is against Reddit's policies but, when the content was reported, the site took no action.
Charities told us that South Asian females are the secret victims of revenge porn due to the fear of being shamed in their community. I wanted to give these women a platform, share their stories, remove the group, create awareness and hunt down the perpetrator. And that's exactly what happened….
We took on the courageous challenge of identifying who the man was behind this group hiding behind an anonymous username.  We went undercover to meet up with him, confirm his identity and secretly film him. The perpetrator also happened to be South Asian.
By doing this documentary I knew I'd be making myself an appealing target for abuse and hackers online. The women in this group are people who look like me, have the same cultural and religious background as me and are the same age.  But if I didn't tell this story as a journalist, who else would? At the forefront of my mind were the innocent women.
All the women I spoke to have now had their explicit images removed, not only from Reddit but across other social media sites.
The story has had a far-reaching and powerful impact, surpassing my expectations. The reach of the documentary was colossal. I am overwhelmed by the positive feedback. It's been humbling."