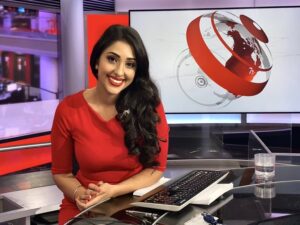 Monika, a Fellow from 2022, is on attachment presenting BBC World and BBC News until February 2023.
She has made the move from BBC Look North and will be focused primarily on reporting on national and international stories for BBC World.
Her recent Panorama investigation – still available to watch here – produced with Ashni Lakhani (2021 Fellow), exposed online networks trading explicit images without consent and highlighted the lack of legal protections for victims. Last month, Monika reported on new laws announced in England and Wales to counter some of this activity.
See a clip of Monika in action here.