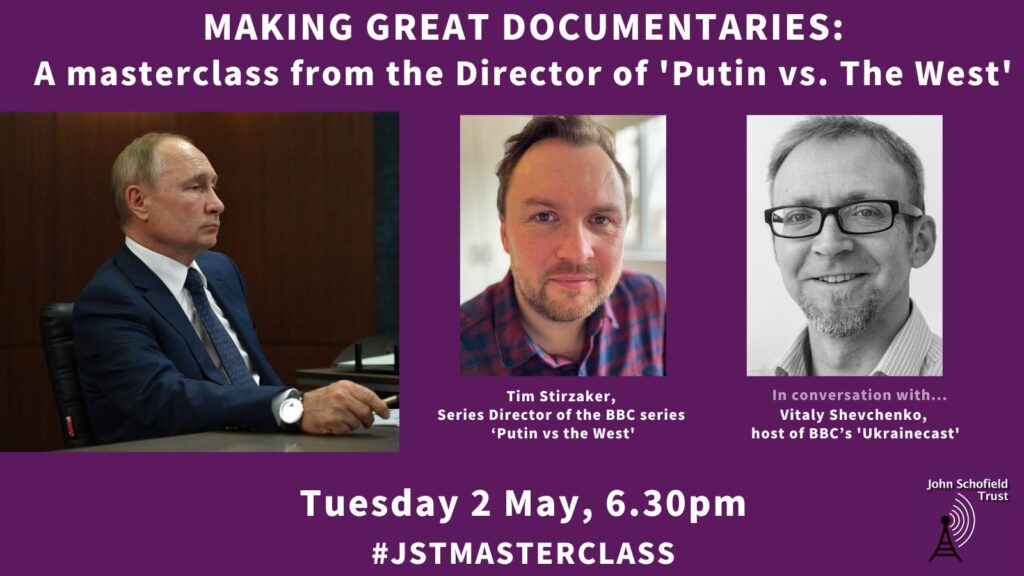 Join Tim Stirzaker, the Series Director of the BBC Documentary Series 'Putin vs The West" for a Masterclass on Making Great Documentaries. Tim will be in conversation with Vitaliy Shevchenko, host of the podcast 'Ukrainecast.'
The Masterclass is on Tuesday 2nd May at 6.30pm on zoom.
Register for a free ticket to the virtual event here.
Tim Stirzaker is the Series Director of the BBC series 'Putin vs the West.' One of his first jobs in television was as the researcher on its prequel, 'Putin, Russia and the West,' broadcast in 2012. Since then, he has made programmes about the Iraq War, the Arab Spring, the history of US elections, and spent two years filming behind the scenes in the houses of parliament for 'Inside the Commons' and 'Meet the Lords'. More recently, he has worked with Series Producer Norma Percy on the award-winning  'Inside Europe: Ten Years of Turmoil' and 'Trump Takes on the World,' which followed the same style as 'Putin vs the West' in interviewing only the leaders, ministers and officials who were there for key moments in history.
Vitaliy is originally from Zaporizhzhia in eastern Ukraine. He first joined the BBC in Kyiv in 2001, initially focusing on monitoring the media in Ukraine, Belarus and Moldova. Later, he moved to the UK, where he became the head of the Russia monitoring department in 2016. While at BBC Monitoring, Vitaly's interests primarily included analysing propaganda and debunking disinformation in the Russian media. After Russia first invaded Ukraine in 2014, Vitaly became more involved in broadcasting.
This event is free and you must register beforehand here. Send questions for the panel to info@johnschofieldtrust.org.uk