The latest session in our series of online masterclasses was the first to be hosted by one of our mentees. Visual journalist and TikTok star, Sophia Smith Galer led a Q+A session on using social media to gather and promote stories. It was also the first masterclass we opened up to the wider public, and we were thrilled that over 100 people registered to join the session.
Sophia opened it by asking everyone to share their social media handles on Zoom's group chat feature and suggested everyone follow each other to build their network of fellow young journalists. She later tweeted, 'If you're a boss in journalism, go through @JSchofieldTrust's tweets from tonight and follow the thoughtful young journalists who took part in tonight's masterclass on social media & journalism. They're tomorrow's experts.'
For me, this highlighted a really simple way young journalists can use technology to build contacts from scratch, especially vital in an industry where networking is so important. Using digital masterclasses as a way to meet new people, not just to get advice from an expert, is an idea I found really interesting, as was her point about using social media to share good work: 'social media is often seen as a place for self-promotion, but we should also be viewing it as a place for promoting others' work'.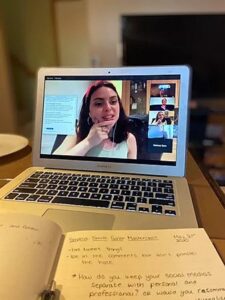 By encouraging conversations between young journalists, Sophia showed the importance of getting in touch with organisations such as the John Schofield Trust which try to diversify newsrooms by encouraging young journalists to expand and strengthen their networks.
The questions came thick and fast during the masterclass. Everything from which apps should be used for filming interviews, to how to deal with a story getting poor engagement, to why digital culture sometimes struggles to be taken seriously by mainstream media. The common thread throughout was the importance of a positive and experimental mind-set when it comes to making content, and to have the courage to be yourself without over-sharing information.
Sophia shared her top tips stressing that young journalists should be prepared to get experience of all platforms and to self-shoot. For a masterclass on online platforms, she surprisingly concluded by urging participants wishing to be a journalist to keep fit: 'being a journalist is brutal on the body. All those long days, holding cameras steady and holding long booms – you really need good upper muscle strength!'
From the number of participants we had in this session it's clear that social media is where young journalists can make their name and lead from the front.
'Such an amazing experience listening to the wisdom of @sophiasgaler, one of my favourite journalists, about all things social media in journalism. Thank you @JSchofieldTrust for a mega masterclass!!! Can't buy that advice anywhere'