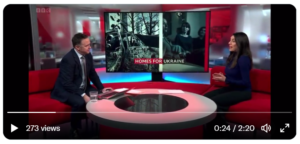 Maria, one of this year's Fellows, produced a report for the BBC on the experiences of Ukrainian women that have been resettled in the UK due to the ongoing conflict. 
She was drawn to the story given her own experience as an Italian moving to the UK, with little English, in order to  become a journalist.
The report was Maria's first TV live, and was broadcast on the flagship evening programme of BBC One's South Today.
Maria explained, "I know really well how hard it is to move to a foreign country to start a new chapter of your life when you can barely speak the language. I did it myself just a few years ago but that was my choice.
However, I wondered how hard all of that can be when you are forced to leave your country because of a war? So I spoke to a number of Ukrainian women now living in the UK and they told me their stories and shared their experience.
It was a story I really wanted to tell and it was great to see how much interest it attracted online, on TV and radio." 
Watch the full report here.
Maria has also recently featured in Voice magazine discussing her unconventional journey into journalism, the challenges she overcame to get to where she is today and how mentoring helped her along the way. Her key takeaway: "Never give up!
Getting into this industry is hard, that is a fact. But there are plenty of people out there happy to help. You just need to ask, and always remember that where there's a will there's a way."
It's a fascinating story with some great insights and advice. Read the full article here.