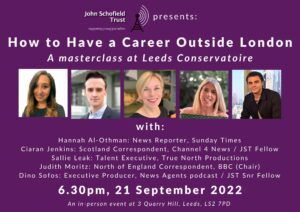 The Trust extends a warm invitation to one and all. Please join us for a very special masterclass in Leeds this September, where our expert panel will offer top insights and advice on pursuing a journalism career outside London.
The panel comprises:
It will be chaired by Judith Moritz, the BBC's North of England Correspondent.
The event will take place at Leeds Conservatoire on 21 September, starting at 6.30pm. It's free and all are welcome. We hope you can join us!
If you'd like to attend please RSVP here.