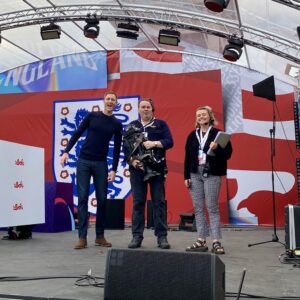 2021 Trust Fellow Laura has started a new role as a journalist with BBC Radio 4's Today programme.
She made the move from BBC Breakfast at the beginning of October.
Laura says: "I'm thrilled to be working on BBC Radio 4's flagship morning news programme with such a brilliant team. It certainly feels like there's never been a more interesting or exciting time to work in journalism!
I had a brilliant year working as a Producer on BBC Breakfast in Salford and bring so many skills from that into my new role: from package producing, telling stories across different platforms, producing OBs, sharpening up my digital production skills and of course… getting used to night shifts!
I'm especially pleased to be coming back to the Today programme as a Producer, after first starting at BBC Radio 4 as a Broadcast Assistant in 2018, and very grateful to all the people – particularly those involved with the John Schofield Trust – who've supported me in my career so far."