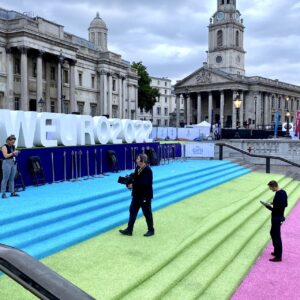 Laura, a Fellow from the 2021 cohort, produced her first Outside Broadcast (OB) following the England Women's football team winning the Euro 2022 final. She describes the experience for us here:
"I absolutely loved producing my first Outside Broadcast for BBC Breakfast – and what better story to do it on, than the Lionesses' victory in the Women's Euro 2022 final!
I was based in Trafalgar Square, the morning after the night before, with sport presenter John Watson and cameraman Paul Watkin, facilitating John's lives for BBC Breakfast, Today, World TV and 5Live across the morning.
We were brilliantly supported by the Breakfast team back at base in Salford as thousands of football fans prepared to celebrate the Lionesses with a victory parade in Central London. A great experience and the first of many more OBs in the future, I hope!"