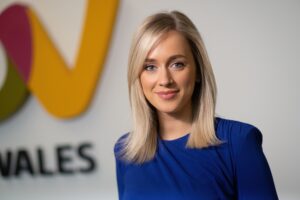 2022 Fellow Katie Fenton has been appointed Health Reporter for ITV Wales.
Katie joined ITV Wales as an ITV News Trainee in 2019 and since then has taken on a diverse range of responsibilities including producing on-air and online content, reporting and presenting the flagship Wales at Six programme.
Katie said, "I am absolutely thrilled to be taking on such an important brief at a critical time for health in Wales. The last couple of years have shown there is nothing quite like health that can affect all of our lives, and to have the opportunity to give a voice to those going through what can often be the most difficult time in their lives is a privilege.
It is a big step up in responsibility but one I feel honoured to take as we enter one of the most challenging periods for the Welsh health service."