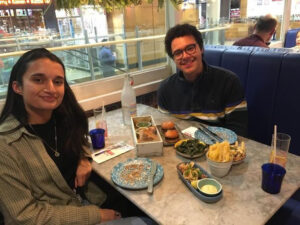 Two Fellows, Josh Sandiford on this year's early-career mentoring scheme, and Naomi de Souza (2021), have won a joint Reach Plc national award for their coverage of the Babbs Mill tragedy in December.
Their reporting covered the tragic story of four local boys that died after falling through the ice of a frozen lake at Babbs Mill in Solihull.
The judges said it was "a shocking, gut-wrenching story reported with sensitivity and utter professionalism by the team at Birmingham Live."  
Josh and Naomi cover Solihull as patch reporters, but also report on breaking news from across Birmingham. 
Graeme Brown, editor of Birmingham Live, said: "Josh and Naomi both worked flat out for days on the Babbs Mill tragedy. Both were at the scene for the whole week but the most impressive thing was the considerate and sensitive approach they took, always reflecting the community and acting with empathy.   Birmingham Live had notes of thanks from council leaders and MPs on our response. Josh and Naomi are both excellent young journalists all the time and stepped up here when we really needed them." 
Naomi says, "It made a huge difference having a supportive manager in Matt Lloyd and an editor like Graeme Brown to help us navigate reporting this tragedy. This is a story we will continue to cover as a community comes to terms with such devastation – and I am pleased it's Josh I can work with to do this." 
Josh says, "Reporting on the Babbs Mill Lake tragedy is something that will never leave me. I'm proud of how we kept people informed with care and empathy. When a story as big as Babbs Mill breaks on your doorstep it's up to you to set the standard and tell it properly. Naomi and I gave it our absolute all so it feels great to be recognised for our work."  
You can get a taste of Josh' reporting on the tragedy here and Naomi's here. Both reporters cover a range of local human interest stories – for more examples follow Josh and Naomi on twitter.