Joseph Ataman, a 2019-20 John Schofield Trust mentee, has been awarded a fellowship with The GroundTruth Project.
The Global Migration, Refugees and Resettlement Reporting Fellowship offers each fellow a $10,000 grant to tell narrative-driven, multimedia stories of migration and resettlement.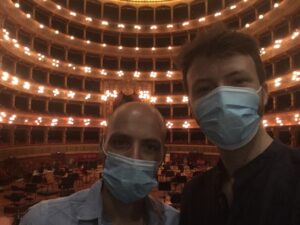 Joseph, a video journalist with CNN, is partnered with James Imam, a Milan-based arts correspondent for the Financial Times and the Times of London (pictured left). They will be filming a short documentary and producing a long-form multimedia article in Palermo, Sicily, where the local mayor, Leoluca Orlando, has championed the cause of migrants arriving on Sicilian shores.
Their project follows several singers in a choir for migrant children as they return to rehearsals post-lockdown, part of the mayor's ambitious programme to use culture to carve out a place for migrant communities in Sicilian society.
Throughout his career covering migration in the Middle East and also with The Wall Street Journal in Brussels, Joseph's repeatedly been drawn to reporting on children's experience of migration.
'Despite the incredible number of children still arriving in Europe as migrants and refugees, and the thousands that we think have disappeared subsequently, children have been largely forgotten amid the furore and panic of migration into Europe,' Joseph said.
'It's so rare to have the time and support to really get to know the families who invite us into their lives. I can't wait to share how these children so powerfully tell their own stories.'
'With this startling collision of opera and integration, I hope we can really give a sense of what life is like for the children navigating the odyssey of integration every day.'