The John Schofield Trust is delighted to announce a new partnership with the Financial Times.
The Trust will now be able to offer 2022 Fellows a fully funded digital FT.com subscription, giving them access to quality news, analysis and comment from the Financial Times during their year of mentoring.
David Stenhouse, CEO of the John Schofield Trust, said, 'I would like to thank the Financial Times for its generous support of the John Schofield Trust.
'The Trust works all year round to increase the diversity of the news media. We're fortunate to mentor the journalistic stars of tomorrow, and this partnership allows our Fellows free access to the extraordinary journalism of the FT at a time when the world is in greater need of reporting and analysis than ever before'.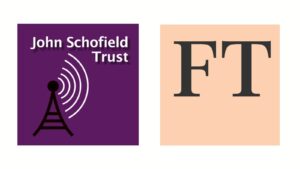 Yasir Mirza, Global Head of Diversity & Inclusion at the Financial Times, said, "The FT is pleased to offer the John Schofield Trust Mentees of 2022 a free ft.com subscription to assist their programme. Like the John Schofield Trust, we aim for employees across all regions to have a voice so that diverse perspectives are heard and valued. We wish all the mentees every success for the year ahead."