The Trust sends its congratulations to John Ryley, Head of Sky News, who has received the Royal Television Society's prestigious Outstanding Contribution award.
The judges said that John had affected 'genuine change' in the industry, and Simon Bucks, the awards chairman, described John as 'individual, idiosyncratic, integral and influential'.
John used his acceptance speech to highlight the need for the news industry to change to reflect modern Britain, saying: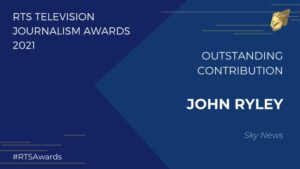 'The biggest lesson I've learned is this: it's not the strongest or the most intelligent that succeeds but those prepared to adapt and change. And, wow, does our news industry need to change.
This isn't just about changing who is on the TV screen. It's also about changing the people who make the decisions behind the scenes.
Luck in television journalism still too often favours the white and middle class. Young people from ethnic minorities need far more than only luck to succeed.
They need advice support and opportunity to get on in our trade, and they need our respect. Respect for the new ideas and new skills they can offer us.'
You can watch John's acceptance speech in full here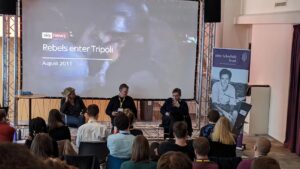 John has been a keen supporter and champion of the John Schofield Trust, and Sky News was the first news organisation to fund the Trust in 2015. Without Sky News's financial commitment, the Trust's ambitions to drive real change in the broadcast news industry would not have been possible.
Over the years, the Trust has benefited from John's wise counsel and he is a regular attendee at our events.
At our first day of masterclasses, held just before the March 2020 lockdown, John gave up his Saturday afternoon to speak to – and inspire – an audience of Trust mentees about working in the industry (see picture of John alongside trustee, Nick Pollard, and Sky News's Special Correspondent, Alex Crawford).
For our first public fundraising campaign held in 2020, #NewsroomsForAll, John recorded the reasons why he champions the Trust.
John's RTS award capped an evening of triumphs for Sky News which was named News Channel of the Year, as well as scooping the awards for best home and international coverage, and the Specialist Journalist of the Year award for Nick Martin who is a past mentor for the Trust.