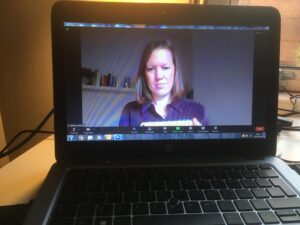 Bethan Jinkinson was a mentor on our 2017 early career mentoring scheme and is the Executive Editor of BBC Ideas, a short-form video website. Recently, Bethan gave a keynote address to the Digital Media Days conference at the European Broadcasting Union, where she talked about how her team overcame some of the challenges presented by coronavirus. Here is a summary of her presentation.
So, 2020. No matter if you're new to journalism – or something of an old hack – this has been the most extraordinary year. The impact of Covid-19 has hit virtually everyone on the planet, changing lives, livelihoods and societies across the globe. And alongside the pandemic, there's also been an 'infodemic' of rumours, conspiracy theories and disinformation.
Although BBC Ideas – a short-form video site launched in 2018 – doesn't cover news as such, we have of course been affected in multiple ways by the impact of the virus. In this article I'll describe how we've worked towards overcoming these challenges, in the hope that our experiences can help others.
But first, a bit about BBC Ideas itself.
Launched in January 2018 with the strapline: 'short films for curious minds', BBC Ideas was based on audience research that showed that people were looking for nutritious, insightful content to supplement their media diets.
Every video we make is based on an idea. It could be a big idea: what would Foucault make of fake news? Or a small one: are you going to the toilet wrong?



We aim to be accessible, informative, playful, digitally authentic. But also to be educational –with a small e.
We've published over 640 films from a range of different genres: anthropology, neuroscience, psychology, philosophy, criminology, history and lots more besides.
And things were going really well.
Our completion rates were high. The small BBC Ideas team and our network of independent suppliers were making fantastic films that were generating engagement and loyalty on both our website and a range of social media platforms.
We won two Webby awards and an RTS award.
But then of course, Covid.
For a team who filmed regularly on location, in studios, and most importantly in person, this was a significant challenge.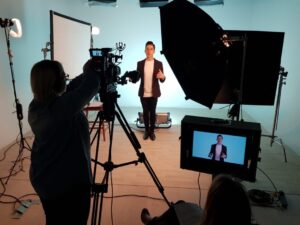 So clearly safety was – and still is – paramount. Not only for staff, but also the freelancers we work with, the contributors we interview – and of course for members of the public. For several months this year we completely stopped filming.
We commissioned more animation, used more stop motion and graphic techniques – but of course we wanted to continue to interview contributors.
Video conferencing is great – but the sound and picture quality can be poor, and watching back-to back-Zoom calls is no-one's idea of fun.
So we developed a range of post-production techniques to make video recordings look good – using techniques like screens within screens, graphical and other treatments.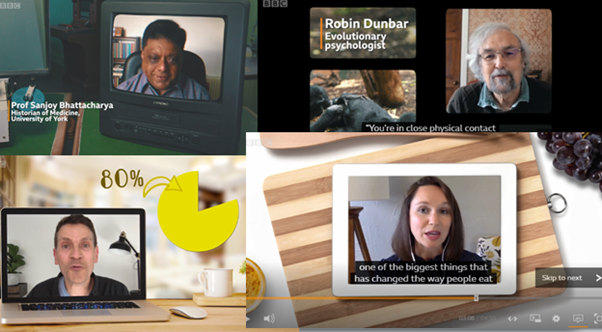 Gradually, cautiously, we've started filming again, following BBC and government health advice, making detailed risk assessments, practising social distancing, etc. But much of our filmed content is still based on recorded video calls.
And you know what, it's fine. It's different, but it's totally workable.
It also has added benefits – it's much easier to access international contributors, for example.
And, of course, it's cheaper. Which brings me on to our next challenge… funding.
The BBC faces a significant financial challenge, and that was true before as well as during the pandemic, and we've been looking to serve audiences better whilst faced with the reality of the financial situation.
At BBC Ideas we had already had a number of films funded by the Open University (OU) – the largest academic institution in the UK. In July this year the OU solidified their partnership with us, significantly increasing their contribution to BBC Ideas.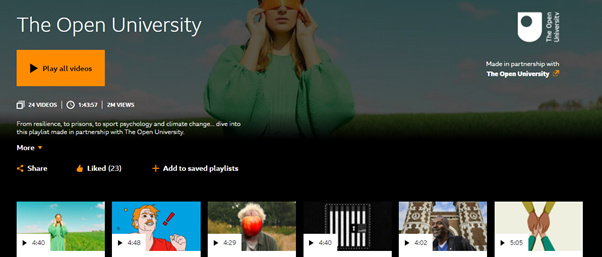 This is a fantastic and important partnership for us – not only for the funding, but also because of the shared values and goals we have with the OU. It also means we have access to the cutting edge research and expertise of their academics, who in turn use our films in their course teaching. And it's not just the Open University – we've also secured funding from the Royal Society, and hope to do something similar with the Imperial War Museum and the innovation foundation Nesta.
But why do partners want to invest in BBC Ideas?
So we offer an editorially collaborative process from start to finish. Every piece starts with an editorial brainstorm with our team and the relevant experts/academics. We work extremely hard to ensure creative treatments and high production values, liaising with the partner at appropriate points through the process – though final editorial control always rests with the BBC.
That brings us on to challenge #3.
I think we can all agree – the online world is rife with conspiracy theories, fake news and disinformation.

Journalists across the globe are working incredibly hard to combat this misinformation.
But you only have to look at Twitter for five seconds to see that it remains a huge challenge.
How do we make sure that we cut through the noise, whilst remaining credible and true to our values?
The digital audience has access to a huge array of information and sources… and they don't always turn to traditional broadcasters like the BBC to help them understand the world.
So for us at BBC Ideas, authenticity is key.
We still love experts – and every one of our videos has academic rigour or knowledge at the heart of it. But we try and take an explorer rather than an explainer approach.
Our audience research showed that people didn't want to be told what or how to think, they wanted to be able to explore a topic, without judgement or being made to feel stupid or uneducated. And there was a huge value placed on personal experience.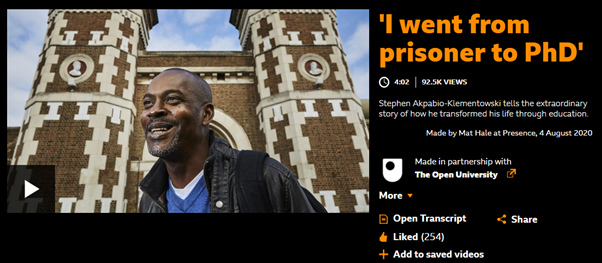 So what does that mean in practice?
So this is one example – Stephen Akpabio-Klementowski, who was imprisoned for eight years for drug dealing – and studied for a degree and two masters whilst in prison.
He's now an associate lecturer in criminology at the Open University, and in his video he talks about both his own experiences and the wider experiences of education as a means of rehabilitation and self-empowerment.

Dr Lucy Hone, director of New Zealand's Institute of Wellbeing and Resilience, is another example. In this animated film she talks about how she tragically lost her 12-year-old daughter in a car accident – and how she was able to put her own expertise into practice to boost her own resilience at this incredibly difficult time.
Both these examples feature people who aren't famous presenters or correspondents – the traditional gatekeepers of knowledge. Many of our films feature people who have never made a film before, nor presented to camera. But with coaching and support they can all share their insights and messages well – and in some ways I think that adds to their authenticity.

At BBC Ideas we've found another way that works well in engaging the audience, which is through exploring the stories behind every day things – from eggs to water to high heels – in a playful yet informed way, shedding new light or giving new perspectives to things we often take for granted. The tone is light, conversational and friendly – but there are still genuine educational takeaways at the heart of every video.
Interestingly, several of our biggest hits have come from videos based on programmes and podcasts made by our home department, Radio 4. Both at BBC Ideas and at Radio 4, we want our content to find people who want to make sense of the world around them, in a way that suits them best – whether it be through the radio, through podcasts, through social media or digital videos.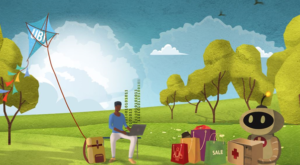 So that's how BBC Ideas has tackled three big challenges this year. Of course, if 2020 has taught us anything it's that we really don't know what's round the corner. I think for all of us, flexibility and creativity will be absolutely key to moving into a post-Covid world.
Talking of which, here's an animation we made with Radio 4 which looks back through history at times when crises have led to profound – and often positive – changes in society. Perhaps 2020 will turn out to have a silver lining after all.