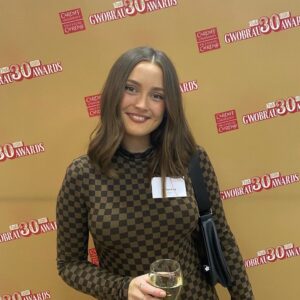 Florence has won a '30(ish) award' from Cardiff University in recognition of her innovative digital journalism and dedication to media diversity and accessibility.
The Awards celebrate the 'innovators, changemakers and rule-breakers' in the University's alumni community.
The 30 under 30(ish) list includes, in particular, those alumni that have made a difference to their community, in the categories of activist, entrepreneurship, environment, equity, innovation, Wales to the world and journalism/media. Florence was a winner in the Equity Activist category.
She says, "I'm really proud to have been recognised by 'The 30(ish) Awards' for my journalism and also for the work I have been doing to help diversify the media industry.
"Growing up disabled in a rural Welsh community, I know all too well how journalism can seem like an inaccessible and daunting career choice. Through my school mentoring, public speaking and work on the board of BBC Ability, I hope I am helping to reduce the barriers others may face to entering the industry.
"These issues are also why the work the John Schofield Trust does is so vital and I am hugely grateful for all the support I have received from the trust as a 2022 Fellow."