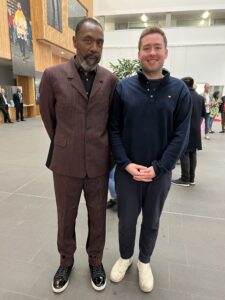 Finbarr, a Trust 2021 Fellow, was recently chosen as a recipient of a Fellowship with the Sir Lenny Henry Centre for Media Diversity to explore the extent to which media organisations are protecting LGBTQ journalists from harassment and abuse.
Finbarr said: "Ensuring that the media industry is as welcoming as possible for members of the LGBTQ communities is a growing priority for media organisations. Yet, being an openly LGBTQ person in the news sector, reporting on LGBTQ issues, can often result in additional harassment and abuse on a wide variety of social media platforms, through website comments and direct emails." 
If meaningful progress is made towards the goal of recruiting and retaining LGBTQ journalists, it is essential that the exact nature of the abusive messages and comments are assessed so that media leaders can ensure the right support and resources are in place for these communities. 
"I hope that the results of this report will be considered by media leaders as they build out the resources and support that they make available to their journalists. I really want to thank my mentor Alex Crawford for her continuing support and guidance, despite being so busy reporting around the world!" 
To learn more about the research published by the Sir Lenny Henry Centre for Media Diversity please follow the link below: Sir Lenny Henry Centre for Media Diversity