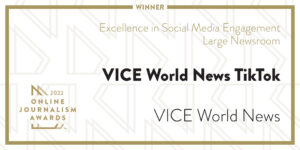 2021 Fellow and video journalist at Vice World News, Nabihah has celebrated a stellar month with an award-win for her team and personal nomination for Journalist of the Year.
The Online News Association granted Vice World News TikTok the winner of the Excellence in Social Media Engagement award in the Large Newsroom category. Its Online Journalism Awards are the only comprehensive set of journalism prizes honouring excellence in digital journalism around the world. Vice TikTok, the team of which Nabihah is an instrumental part, was recognised for the phenomenal growth in views and followers it has accrued over the last year.
Nabihah has also been named a finalist for the title of Journalist of the Year 2022 by the Asian Media Awards. Nabihah said, "Absolutely thrilled to be shortlisted amongst a group of so many talented journalists! Wow." The winners will be announced at the award ceremony at the end of October.