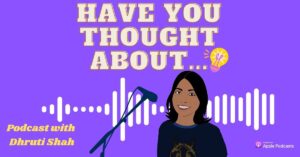 Journalist, Senior Fellow and Trustee Dhruti Shah has launched a new podcast aimed at 'people who are at a reckoning' and wanting to learn from others about how they pursued their passions.
It's an independent production that she created throughout March, and can be found on all major podcasting platforms, as well as hosted on Dhruti's own site here.
In each episode Dhruti interviews a super cool person who has managed to chase their passions but also fit together in their life or profession things that you might not think of as an obvious match. Season one features South Africa's first black female helicopter pilot, an AI specialist who is also an illustrator, and a video-game-designing conservation biologist; as well as international journalists with interests including cat whispering and Finland, and even a composer who is decolonising the music curriculum.
Dhruti says creating the series herself was a response to her efforts to navigate the job hunt, which can feel relentless when working in a freelance capacity. You can read more about the experience from her own perspective on her substack blog series, Have You Thought About… here.
Subscribe to the substack, connect with Dhruti on LinkedIn or follow her on twitter to stay up to date with her many and various projects.