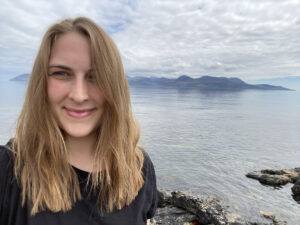 Alix, one of this year's Fellows, is a producer on the BBC's Undercover Voters initiative which took home the 2023 Royal Television Society award for 'Innovation of the Year'. 
The initiative is a joint project with Newsnight and Americast. Five characters were created using data gathered by the Pew Research Centre to represent views from across the US political spectrum. The characters were set up on social media for the purpose of tracking the information and recommendations voters are exposed to online. The project found that there was a rise in misleading and violent posts in the weeks leading up to the midterm elections. Find more on the project here. 
Alix worked with the BBC's Disinformation and Social Media Correspondent Marianna Spring, producing from character development stage and helping to run the social media accounts.
She told us, "It's been incredibly rewarding working on such an innovative piece of journalism with the BBC's Disinformation and Social Media Correspondent. It's exciting that this award recognises an investigation into the social media worlds that play such a big part in our lives today and the influence that they have on our political landscape."
Marianna's response to the award win can be found here. Follow Alix here.