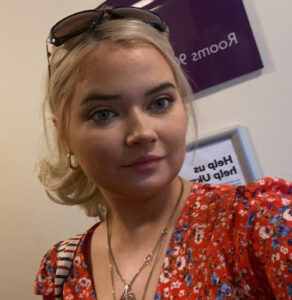 Aimee, a Fellow on the first year of our undergraduate mentoring scheme, is excited to have been offered her first internship – after some productive mentoring sessions.
Aimee is a journalism student at Edinburgh Napier university, and is mentored by Rosa Furneaux, health reporter at the Bureau of Investigative Journalism.
Rosa welcomed the news with this tweet:
"Bursting with pride this morning, as my fantastic @JSchofieldTrust mentee has been offered her first internship! Last month we worked together on her CV, and it's really paid off. Congratulations @AimeeC246″
Aimee explained a little bit more about what the sessions entailed and how they helped her to take a step forward in her journalism career:
"My mentor Rosa was a great help in rebuilding my CV to include more of my journalistic skills and helping to organise my CV better overall. When I applied for Deadline's internship the CV which I rebuilt with Rosa really helped in showing my interests in journalism and the path I hope to follow down.
Rosa has given me so many websites and different organisations which provide opportunities and advice for people starting out in journalism, which I have found to be a great help. She has also given me advice on interviews and day to day life as a journalist, which I feel fortunate to have as I feel more prepared for a future career in journalism and more confident about going into this internship with her support.
Rosa has been so encouraging of me and has been there to offer advice and help whenever I've needed. I couldn't have done this without her support and encouragement."