Following trustee Matt Peacock's fascinating corporate investigations talk at the John Schofield Trust's masterclass in February (pictured below), a queue of eager journalists – myself included – formed, prioritising their questions over their stomachs that lunchtime.
As the coronavirus pandemic has shifted much of work and life online, it seems apt that Matt's latest talk for the Trust focused on how businesses will cope in a post-Covid 19 world.
Based in London, Matt is an international business adviser and lecturer. He became an adviser after a 20-year career in senior leadership roles with some of the world's largest multinational corporations. Before going into the corporate world, Matt was a BBC reporter on the World at One and worked with John Schofield in Croatia.
Much of Matt's talk focused on Environmental, Social and Governance (ESG) principles, and how companies that take the long-term commitment to climate and its workers seriously – in addition to its shareholders – are generally outperforming those that don't in these 'unprecedented times'.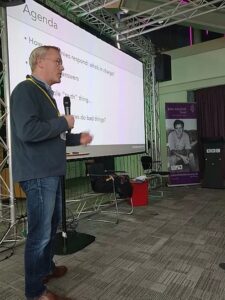 'This proves for the first time in history, that the firms that are doing good, perform better,' Matt said.
The coronavirus pandemic has simply accelerated many trends that were emerging in the business world. Matt discussed in turn protectionism and populism, climate change as a priority for businesses, the rise of automation and what a 'good company' might look like in the future.
One of the most sobering moments during the presentation included when Matt presented a chart showing the disparity in earnings between the average CEO and employee in the United States. The executive pay level stood at about 20 times that of the average worker in the 1960s, and has since skyrocketed to more than 200 times their pay.
This disparity of earnings is "unsustainable" Matt said, pointing out that black Americans are 'grotesquely disadvantaged economically and in the judicial system'.
'No system can sustain that level of inequality,' and a rebalancing across corporations could be expected soon, particularly in light of recent events.
The one key takeaway point? 'ESG principles are the biggest change to come to business in 50 years. And the businesses that can take it seriously are going to come out on top.'
And as questions rolled in on 'good companies', firms withdrawing dividends and how large corporates might change in the next five to 10 years, it was clear that Matt's insight as somebody who has been inside a business, making a change, was invaluable to mentees.